THE OUTDOOR EXHIBITS

Tractors from the past, historic gas engines, old logging & mining equipment, and thousands of items of Oregon's history is what you will find here!

1911 J.I. CASE STEAM TRACTOR

Used to move heavy loads on roads, plough ground or to provide power by means of a continuous leather belt, driven by a flywheel, this 45hp steam tractor provided ample power to pull four plows under ordinary field and soil conditions. If the boiler failed, it would release enough energy (from the steam and water) to send this traction engine one mile straight up.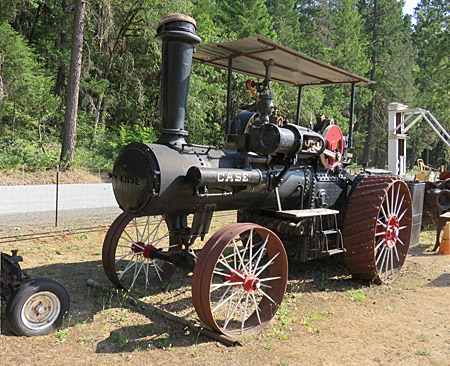 1919 WHITE LOGGING TRUCK

Waukesha Motor RU4R 4 ¼ Bore x 5 ¾ Stroke Chain-Driven Transmission The White Motor Company manufactured automobiles and trucks of all sizes from 1906 through the early 1960s. A chain-drive system used one or more chains to transmit power from the differential, allowing each of the driving road wheels to rotate at different speeds, to the rear axle.

1908 RUSSELL And COMPANY STEAM TRACTOR

Single Simple Cylinder, 4 ¼" Bore x 5" Strike 12 Horsepower. Portable steam tractors were used to drive agricultural machinery like threshing machines and gristmills. It was also used to power sawmills, ore mills, pumps, fans, and line shafts. They were typically towed to their work sites by draft horses, oxen, other steam tractors, or trucks.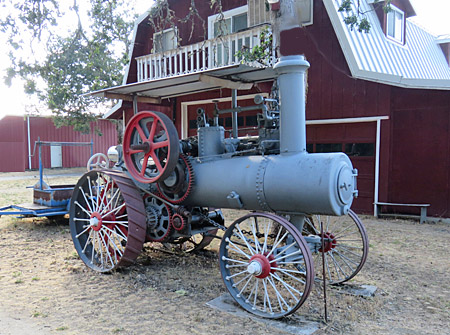 1935 FAIRBANKS-MORSE 32E-14 DIESEL ENGINE

This cast iron two-stroke, 4 cylinder diesel engine is water-cooled and needs 250 pounds per square inch of air to turn over (start). This engine ran an irrigation system in Fresno, CA in the 1930s-1940s. It used 16 gallons of diesel fuel every hour. Come feel the ground shake during our Tractor Show in June when we Fire it Up!

HORIZONTAL SHINGLE MILL

A shingle mill is a machine that is used to slice a section of log into tapered wedges to make wooden shingles. A piece of log is moved past a spinning saw blade to slice off a shingle, then slid back, advanced forward, and the next cut made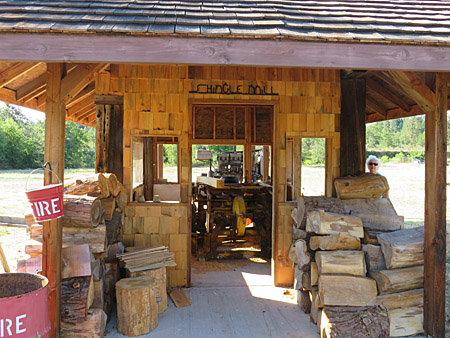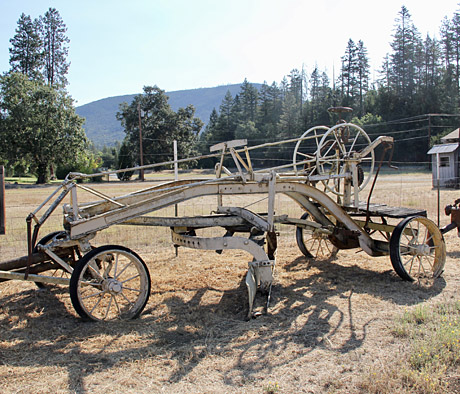 ADAMS LEANING WHEEL GRADER No. 8

Manufactured from 1929 – 1932. In the early years of road building, graders were pulled by a team of oxen, mules, horses, or tractors. The wheels were leaned to the right or left to suit the work being done by means of two cranks at the operator's platform. The front and rear wheels leaned independently.
OUTDOOR EXHIBITS OPEN 10 AM - 6 PM
PIONEER TOWN AND MUSEUM ARE BY APPOINTMENT


CONTACT US
Or CALL: 541-476-7319


Pottsville is an all-volunteer organization. No salaries or compensation.
Donations directly support renovations and improvements at Pottsville