THE FOUNDATION

Mission Statement:
The Eugene Debbs Potts Foundation is dedicated to preserving and making improvements to Pottsville and it' facilities as an outstanding location for the promotion of educational, historic, and charitable activities and events.

Making a Gift to Pottsville:
Be a part of a vibrant future and continued educational and historical enrichment of our community by supporting The Eugene "Debbs" Potts Foundation.

Your contributions, whether large or small, ensure a strong foundation for Pottsville.

Cash and Other Donations:
Cash gifts of any amount directly support exhibit enhancements, renovations and new exhibitions. Interested in a more hands-on way, you might consider Gifts in Kind (non-cash gifts, including building materials, and labor.

Sponsorships
Looking for a unique gift or a special way to support Pottsville for years to come? You can choose to do the work yourself or make a cash donation toward restoring and maintaining a vehicle and/or item of your choice. Sponsorships are great projects for businesses, schools and civic organizations.

Memorials and Bequests:
Memorials and Bequests are great ways to recognize the memory of a loved one, provide support and ensure the future of Pottsville for generations to come, leaving a personal legacy which enriches Josephine County and the State of Oregon.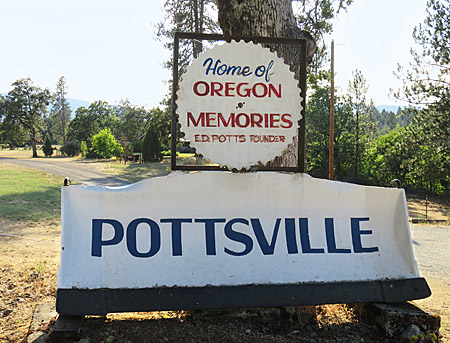 OPEN TO THE PUBLIC
OUTDOOR EXHIBITS 10 AM - 6 PM

MUSEUM TOURS AND PIONEER TOWN ARE BY APPOINTMENT

CONTACT US
Or CALL: 541-476-7319